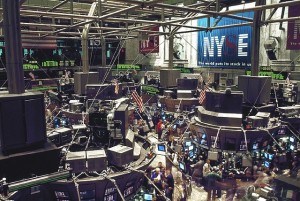 ---
April 1, 2018
March 2018 Market Commentary
Markets bi-furcated in their assessment of current conditions during the month. This development is notable, as Equity and Fixed Income Markets have held a similar view for an extended period of time.
Equity markets continued to be buffeted by volatility. The primary concerns included the possibility of the Trump Administration implementing campaign rhetoric focused on tariffs. When markets thought Trump might be successful they sold off, fearing the beginning of a global trade war and the disruption of the world order that has provided consistent growth and stability for decades. Markets then rallied when it appeared that Trump may not be successful in implementing tariffs, or would scale back these initiatives. Markets were also nervous over the prospect for tech stocks. In particular over nervousness for the prospects of Facebook following concerns over the abuse of user data, and the larger implications for the tech sector of greater government attention to the industry.
Meanwhile, fixed income markets began to stabilize once again, with long-term yields declining. As evidence of this trend, the yield on the US 10 Year Treasury declined towards the end of the month, from a peak near 2.9% to 2.74%. The US Federal Reserve increased short-term rates by a quarter point, to a range between 1.5% – 1.75%. However, this move was widely expected.
As we move into spring and mid-2018 it remains to be seen whether Equity or Fixed Income Markets are more accurately assessing the near-term direction of the markets.
---
March 5, 2018
February 2018 Market Commentary
Both Equity and Fixed Income Markets were buffeted during the month, as market worries over a number of factors came to the forefront at the beginning of the month, and after a period of relative calm, as the month closed out.
The key worries were over several themes, including:
*  Concerns over increasing fixed income rates (in part due to new leadership at the US Federal Reserve).
*  Increasing fears over inflation, especially as the new tax bill introduces much larger government deficits.
*  The lack of any clear infrastructure spending plan by the Trump Administration, and …
*  As we entered March, the rising prospect of a trade war, as the Trump Administration (with no prior warning) announced potential tariffs on imported steel and aluminum.
In short, in four separate ways, the Trump Administration introduced uncertainty. Markets never like uncertainty, and particularly in ways that are likely to be harmful to the economy and market stability. But in a promising development today, markets rallied when House Speaker Ryan broke ranks with Trump over steel tariffs, reducing the prospect of a trade war. As these developments play out we can expect more volatility in financial markets.
---
February 4, 2018
January 2018 Market Commentary
Equity Markets advanced strongly for most of January, achieving new record highs on multiple occasions. Markets then fell victim to a number of fears as the month came to a close, with declines growing more acute as we moved into February. The major factors driving the reversal in market sentiment include:
2) Tightening Labor Markets

3) Rising Bond Yields, and

      4) Increasing Fears of Inflation
Fixed income markets were first to show negative sentiments, with yields increasing steadily through the month (bond yields and price are inversely related). January's performance suggests that increasing yields are more than just a temporary phenomenon, with yields seemingly heading upward on a more sustained basis. Arguably the best indicator in the near-term (of a secular trend indicating more protracted yield increases) will be if the US 10 Year Treasury breaks through a 3.0% yield. That eventuality appears to be increasingly likely, as the 10 Year witnessed yields moving from 2.46% at the close of 2017 to 2.84% as January came to a close.
---
January 4, 2018
December 2017 Market Commentary
Equity Markets continued to advance in December, with a major driver being the passing of new tax legislation by Congress, signed into law by President Trump. For the year, markets advanced steadily with the major factors driving advances as follows:
1) Simultaneous global growth.
2) Continued low-interest rates around the world.
3) "Windfall profits" for US corporations due to the new tax bill, and…
4) The reality that most of President Trump's anti-free-trade campaign rhetoric, to date, remains just that.
More rhetoric than reality.
The prospect for continued market advances in 2018 seems to be a realistic possibility for the time being. Despite some skittishness, most market pundits opine that the market can continue to advance in 2018, despite elevated valuations. How the four factors outlined above continue to play out will, in large part, also affect the market's direction going forward.
The likelihood of a flat or inverted yield curve in 2018 now is a possible eventuality. However, the market seems to be taking this prospect in stride. Although most recessions begin with an inverted yield curve, not all inverted yield curves result in a recession. For now, the market seems to have taken the view that even an inverted yield curve by late 2018 may still permit the economy to grow for at least another one to three years. Meanwhile, International Markets remain reasonably valued. As a result, they should be comparatively less impacted than US Markets in the event of a correction.
Fixed income markets in December showed an upward bias in yields in terms of a secular trend. However, the US 10 Year Treasury ended December about where it began, near 2.41%, despite rates near 2.35% earlier in the month and closer to 2.45% toward month's end. For the year yields on the 10 Year Treasury ended near levels about where they started. Yields declined towards 2% by September and then reversed, beginning an upward climb back to where they began 2017.
---
December 4, 2017
November 2017 Market Commentary
Equity Markets continued to advance in November, propelled primarily by momentum and the expectation that the Trump Administration will soon enact new tax legislation. Tax "reforms" are expected to be highly favorable to corporate interests, in the form of a tax cut to 20% for U.S. Corporations. Fundamentals continue to improve, with US GDP growth reaching 3.0% in the third quarter. Still, fundamentals alone do not adequately explain the markets continued and steady ascent.
Meanwhile, fixed income markets saw rates begin to climb again. However, yield increases continue to be moderate, with rates towards the higher end of the trading range that we've observed over the past few months. Observers continue to anticipate three or perhaps even four rate increases by the U.S. Federal Reserve in 2018. While short-term rates continue their upward momentum longer-term rates remain comparatively subdued. The prospect of a flat or "inverted yield curve" (with short-term rates above those of longer-term rates) seems increasingly likely in the coming year. Still, observers discount the possibility of a recession in the next year or two, which inverted yield curves typically predict. The consensus view is that U.S. longer-term rates will be held down by foreign demand for U.S. Bonds, given lower rates overseas. This factor is believed to offset the normal predictive value of an inverted yield curve as an indicator of a coming recession.
---
November 1, 2017
October 2017 Market Commentary
Equity Markets around the globe continued to advance in the past month. Increases outside of the United States seem justifiable, given more reasonable valuations overseas. In the United States advances seem to be driven more by complacency and a fear of "missing out", rather than underlying corporate fundamentals (except perhaps in the tech sector). This does raise concerns that a correction may increasingly be likely. That said market momentum often continues for a year or two in such an environment before a material decline ensues. As a result, continued market advances may come despite no apparent logic behind the advances.
Fixed income markets became more concerned about potential changes in monetary policy (i.e. more "hawkish") under a new Federal Reserve Chair. Current Fed Chair Janet Yellen's initial term will expire early in 2018, with President Trump likely appointing a new Fed Chief. As a result, the U.S. 10 Year Treasury saw its yield increase from a low of 2.28% on Oct. 13 to 2.46% by Oct. 26, though it ended the month somewhat lower at 2.39%. Despite this fact, the Barclay's U.S. Aggregate Fixed Income Index continued to hold its own, with the YTD Return advancing to 3.23% from 3.14% a month earlier. Meanwhile, Barclay's Global Aggregate Fixed Income Index suffered slightly, with YTD Returns declining to 5.81% from 6.25% a month earlier, due largely to a continued strengthening of the U.S. Dollar.
---
Peter Gaylord, CFA
Gaylord Wealth Management, LLC
535 Mission Street
14th Floor
San Francisco, CA 94105
+1 (415) 971-7529
pgaylord AT gaylordwealth.com
gaylordwealth.com